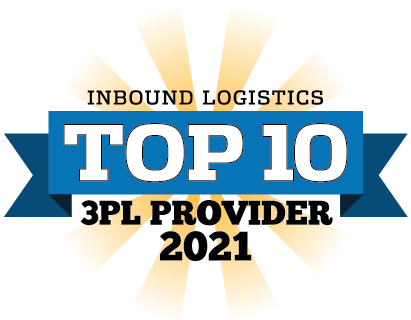 R2 Logistics, Inc., a customer-focused Third-Party Logistics service provider, today announced that it has been voted as a 2021 Top 10 3PL Provider by Inbound Logistics. R2 Logistics was selected for its full suite of logistics and supply chain solutions that help thousands of businesses across North America. 2021 marks the third year in a row that R2 Logistics has reached a spot in the top 10. This year R2 Logistics rounded out the rankings as the number ten Top 3PL.
"We are honored to be voted by our customer and carrier base as a Top 10 3PL for the third year in a row. This recognition is a direct reflection of the culture embedded into R2 Logistics where customer service stands above everything else," said John Pavlick, R2 Logistics President.
Each year, Inbound Logistics editors select the best logistics solutions providers by carefully evaluating submitted information, conducting personal interviews and online research, and comparing that data to audience's burgeoning global supply chain and logistics challenges. Inbound Logistics editors selected this year's class of Top 100 3PLs from a pool of more than 300 companies. The service providers selected are companies that, in the opinion of Inbound Logistics editors, offer the diverse operational capabilities and experience to meet their audience's unique supply chain and logistics needs.
"When choosing the 2021 Top 100 3PL Providers, Inbound Logistics editors specifically targeted providers who offer the innovation, visibility, flexibility, speed and control that drive the supply chain solutions our audience needs to achieve their goals and meet customers' evolving needs," said Inbound Logistics Editor, Felecia Stratton. "Inbound Logistics is proud to honor R2 Logistics for innovative solutions empowering logistics, supply chain and transportation excellence in 2021."
The Inbound Logistics 2021 Top 10 3PL Provider list appears in the July 2021 print and digital edition of the publication. The list will also be posted online on the Inbound Logistics website.
"I'm incredibly proud of the work our team has accomplished to keep our service-based model running at such a high level," added Pavlick. "Having our carriers and customers validate this by voting us in to the Top 10 again this year is very special, and we thank them for their continued partnership."
About Inbound Logistics
Inbound Logistics, the demand-driven logistics magazine, is the leading multi-channel content provider targeted toward business logistics and supply chain managers. Inbound Logistics' mission is to help companies of all sizes better manage corporate resources by speeding and reducing inventory and supporting infrastructure, and better matching demand signals to supply lines. More information is available at www.inboundlogistics.com.
R2 Logistics is a third-party logistics (3PL) provider offering industry-leading supply chain management services to shippers of all sizes. R2 Logistics is an Inbound Logistics Top 10 3PL and one of Transport Topics Top 50 Freight Brokerages. With the R2 Logistics Transportation Management System (TMS), customers can rate shipments and receive real-time visibility into their logistics network. R2 Logistics specializes in services that include managed transportation, full truckload, less-than-truckload (LTL), expedited and air freight, intermodal, ocean and specialized hauling. For more information visit www.r2logistics.com.